Traditional Art - Gallery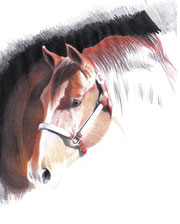 Most of my pictures are based on a photo reference. Especially when drawing portraits this enables reducing the working time for each piece for several hours.

The average time needed to finish a portrait created using pencils (DIN A4 format) is 10 hours.
When using acrylics I only need about half of the time.

Because of the many layers of colour necessary to create a realistic shading, pictures created using Polychromos take the longest.
I spent about 24 hours on Cassidy.
To see the gallery please choose one of the following: